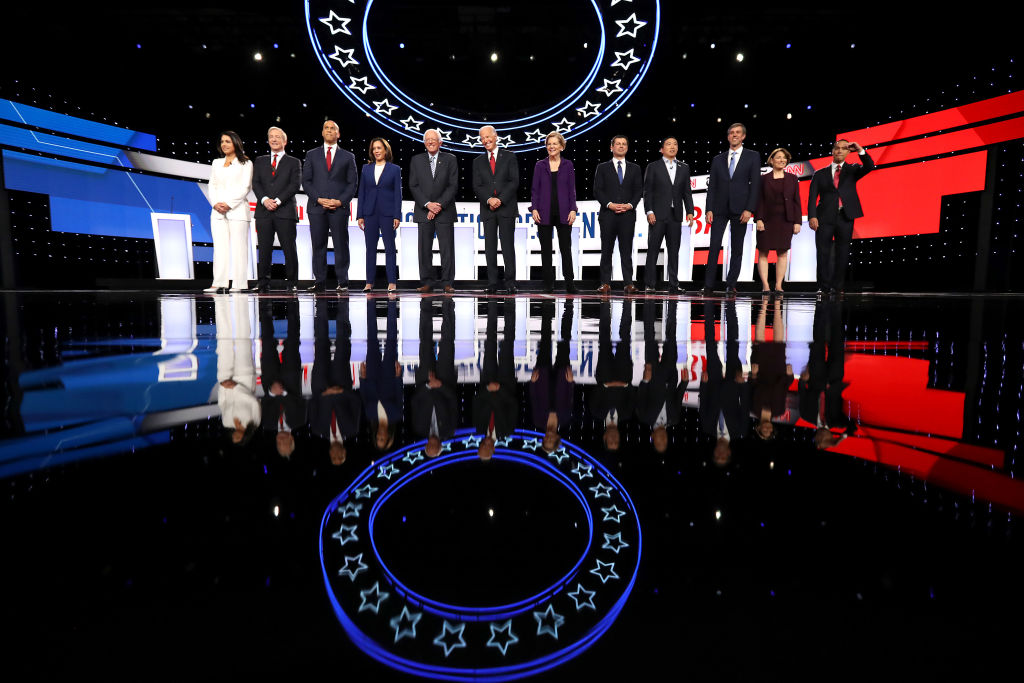 Get To Know The 2020 Democratic Presidential Candidates
There are currently 18 Democrats running for president. Inform yourself about them all.
The 2020 presidential election is only a year away, and there are 18 Democratic candidates still in the running. We know that you all are in different phases of your voting careers; some of you have been exercising your right to vote for a few years, while others will be voting for the first time. Regardless of where you are, it's important to be informed about who you're interested in voting for, as well as the stances and goals of their opposition. Though it is sometimes perceived as a small act, voting matters.
Mighty Black women like Fannie Lou Hamer fought for your right to do so, so it's vital to honor them, and yourself—especially given today's political climate.
Check out our rundown of each Democratic presidential candidate below.
Julián Castro
Location: Texas
Castro is the only Democratic Chicano in the running, which instantly sets him apart from the other candidates. He worked as the Secretary of Housing and Urban Development under the Obama Administration, and was elected mayor of San Antonio in 2009. Castro wants to change how America handles people who enter the country illegally, and give immigrants a fair chance to become citizens.
Kamala Harris
Location: California
Rhetorical powerhouse Kamala Harris formerly served as California's Attorney General. She's for the legalization of marijuana, and also wants to implement a buyback plan for owners of assault rifles (check out more about her stance here.) She's having a difficult time convincing the public that she's more progressive than she once was, as some voters still view her as an agent of inustice that put innocent people in jail.
Elizabeth Warren
Location: Massachusetts
Rep. Warren (D-Mass) is one of the most popular candidates, though she has come under fire for telling the masses that she had indigenous roots, when she does not. She was a Special Adviser to the Consumer Financial Protection Bureau during President Obama's first term and has been a US Senator since 2013. Warren aims to tax the wealthy to deal with financial inequity. The taxes would go towards lower income families who need help with childcare.
Tom Steyer
Location: California
This candidate is a billionaire, which could cause voters to believe he's out of touch with the needs of middle and lower class Americans, especially Black people and indigenous people of color. But, Steyer seems to be in tune with the needs and endorses free public education. He also is all for the impeachment of President Donald Trump, and has even launched a campaign calling for his removal.
Joe Biden
Location: Delaware
Biden is best known as the vice president for Barack Obama. But, the former president has not endorsed Biden, supposedly at his request. His participation in the war on drugs in the 1980s and '90s, his failure of Anita Hill (an attorney-advisor and professor who accused Supreme Court nominee Clarence Thomas of sexual harassment,) as well as Biden's own instances of inappropriate behavior have affected potential supporters. Regardless, he is doing well in the polls and has superior knowledge of foreign policy.
Bernie Sanders
Location: Vermont
You likely remember Sen. Bernie Sanders (D-VT) from the 2016 election – he ran against Hilary Clinton. His radical propositions, like completely wiping out student debt regardless of income and making college free, have made him popular among young liberals. Another one of his major points is better caring for the homeless population and low income families through affordable housing. If elected, he wants to build 7.4 million affordable housing units. Read more about his plan here.
Joe Sestak
Location: Pennsylvania
Sestak is largely unknown, but he was a congressman in his home state during the Obama administration. He was also in the US military for over 30 years. He's pushing for reform in higher education – he wants to create a chasm in the relationship between student loans and the federal government, and also make it easier on students to transfer college credits.
Tulsi Gabbard
Location: Hawaii
Rep. Gabbard (D-HI) is a military veteran with a sizable following. She's supportive of marijuana legalization and according to her site, she wants to end the opioid crisis that's ravaging the nation. Her previous anti-LGBTQ+ ideology may have alienated potential supporters, and Gabbard has also been accused of being a Russian plant. She also had a questionable meeting with the president of Syria.
Michael Bennet
Location: Colorado
Michael Bennet was forced to take some time off from his campaign after a cancer diagnosis in the spring. But Bennet, who was once Denver's former school board superintendent, is back, and wants to rework Medicare. Ideally, the program would be a revamp of Obamacare. He also supports Dreamers and has pushed for illegal immigrants to be able to become citizens.
Marianne Williamson
Location: Texas
Spirituality is Williamson's approach. She has served as Oprah Winfrey's spiritual adviser, and has written a number of best-selling books about the power of morality and love. Though she is mostly known for her belief systems (and has been accused of being anti-science), she is also pushing for financial reparations for the Black community, as well as free higher education at two-year and four-year institutions.
Andrew Yang
Location: New York
Yang's background is business, not government, which may cause some voters to be skeptical. One of his most popular plans is to allocate $1,000 monthly to all adult Americans, but some observers aren't convinced a universal basic income would work. Yang's political philosophy is human-centered capitalism, which is a money-focused society that places people's well being over economic greed.
John Delaney
Location: Maryland
Delaney isn't instantly recognizable, even though he announced that he would run for president in 2017. He's participated in one debate thus far, and his primary focus is rural America. The discussions about unemployment and the creation of jobs usually exclude rural America, which is contributing to the dwindling populations in rural areas. One of Delaney's plans includes forgiving student loans for grads who move to a rural area and live there for a decade or longer.
Beto O'Rourke
Location: Texas
When O'Rourke ran for a junior Senate seat in Houston, Texas last year, Beyoncé endorsed him hours before the polls closed. Though he was unsuccessful, he became a household name and is winning people over with his dedication to gun control. "All of us should be able to live without fear of losing our lives at movie theaters, in night clubs, at concerts, or on the street," his site reads. O'Rourke has also laid out a plan for marijuana legalization that includes clemency for those imprisoned.
Corey Booker
Location: New Jersey
Booker was once the mayor of New Jersey, but he's currently a U.S. Senator. One of his most discussed plans is one that will benefit poor young people: he wants to give each lower class child a reserve $46,000 to be used towards home ownership, higher education, or a retirement fund. Booker is also focused on ending mass incarceration, since a quarter of the incarcerated people in the world are jailed in the U.S. Booker's website shares that his campaign doesn't accept money from corporate PAC's (Political Action Committees), but there's a loophole: he can accept cash from "the PACs of membership organizations and unions."
Steve Bullock
Location: Montana
Governor Steve Bullock has the support of his home state, despite Montana's favor towards Trump in 2016. He has already expanded Medicaid and also wants to end unethical political funding. Additionally, Bullock supports immigrants, and even opted out of sending Montana's National Guard to the border of the United States and Mexico.
Wayne Messam
Location: Florida
Messam is currently the mayor of Miramar, Florida. His take on women's health is rather simple: "I trust women to make their own decisions when it comes to their health. Period," his site says. He's pushed for Puerto Rico to be recognized as a state, and also for stricter gun laws, but his campaign has been marred by his failure to pay his staff. He raised $5 in the last quarter.
Amy Klobuchar
Location: Minnesota
One of Sen. Klobuchar's (D-MN) greatest concerns is climate change. She is pro clean-power and encourages businesses to "buy clean," according to her site. Klobuchar supports women and children with the majority of the laws she has supported, such as banning lead in toys and allowing mothers to stay in the hospital for 48 hours after giving birth . Though she is a Democrat, she has been able to win over conservatives.

Pete Buttigieg
Location: Indiana
Buttigieg is currently the mayor of South Bend, Indiana. He supports women and their rights, and his website outlines the steps he will take to empower women. A few of these steps include: closing the pay gap, especially as it affects women of color, legalizing abortion across the nation, making sure women are in political positions of power, and also finally address the murders of Indigenous women on a nationwide scale. The candidate is having a hard time connecting with Black voters though, due to "All Lives Matter" comments he made in 2015.
Photo credit: Getty Images