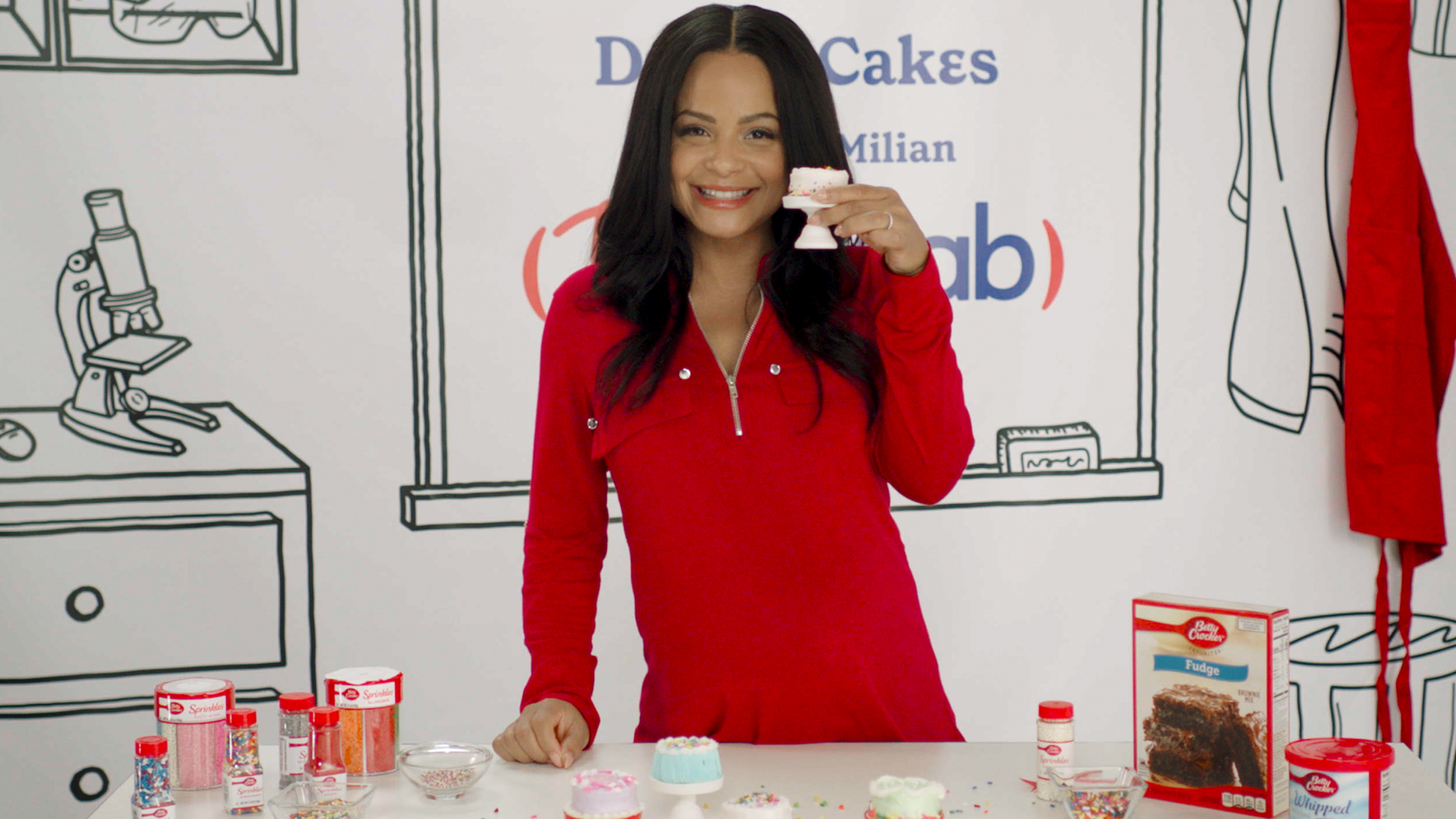 Cookin' with Christina Milian: How She Uses Baking to Teach Her Daughter STEM
The "Us Against The World" singer talks her BettyLab partnership
Christina Milian is one of the sweetest celebrities to have emerged from the early 2000s. From her acting and singing career to entrepreneurship and motherhood, the Bring It On: Fight to the Finish actress has always let us in with style, poise and a sweet smile. Now, she's taking her sweet personality to the kitchen to create sweet STEM solutions with her kids.
The "Dip It Low" singer has partnered with Betty Crocker in their new BettyLab to build STEM confidence in the kitchen by creating miniature doll-sized versions of Betty Crocker's iconic cakes. The new digital hub offers resources from Betty Crocker and numerous innovative partners to transform the kitchen into a learning space filled with science and mathematic magic and possibilities.
Inspired by the Barbie Dream Gap Project, BettyLab's first partner, Betty Crocker decided to partner with Milian, who also has a young daughter named Violet, to empower girls everywhere and tap into their unlimited potential. The Dream Gap Project was launched in 2018 in collaboration with Barbie to close the metaphorical gap of young girls starting at the age of 5-years-old inflicting negative self-talk and limiting beliefs that they're not as smart as boys.
ESSENCE Girls United caught up with the Love Don't Cost A Thing actress about her partnership, parenthood during the pandemic, and her new role in Step Up: The Series. Check out the conversation below!
Tell me about your partnership with BettyLab and how it came about.
MILIAN: I love to be in the kitchen and I love to spend time experimenting and doing things with my daughter. Part of our relationship and even in this year, we're trying to find things to do with each other while also building her confidence in knowing she can do stuff in the kitchen or she can create things on her own. My daughter loves to do little projects and stuff; a lot of that starts in the kitchen.
The partnership with BettyLab came along at the right time because we love to cook. On top of that, I love to influence her in knowing that there's actually more to creating a cake. Of course, it's a ton of fun and it tastes delicious, but did you know that you're also learning science? Science or math also comes in handy for these activities, and STEM can actually be fun.
What influenced your decision to partner with BettyLab the most?
MILIAN: Growing up in a heavily male-influenced business and actually rising from that and saying, "Hey, I'm a woman that can create these things and my passions and my joys and do things that I love." A lot of it has to do with my own confidence. I can be a mom, an entrepreneur and I can be all of these things. If you look at the partnership between the Dream Gap Project with Barbie and the same thing with BettyLab, it just made so much sense as far as my partnership along with them. I'm really happy that I got together with them and I was able to make my little Betty Dream Cakes.
My daughter was actually there and I actually was learning along the way the entire time how to not only make these cakes but also that there's a science to this. There's mathematics that you're actually learning that you don't even realize. All the measurements influence how your result is going to be at the end. I patted myself on the back because I actually did a good job. I'm not the best decorator, but I did what I could. My daughter was really happy with her Dream Cakes in the end. I love the fact that they're launching this so families can create these experiences together.
Whether it's entertainment, journalism, or STEM, a lot of businesses are dominated by white male heteronormative men. Why is it so important, especially for you as a woman of color, to encourage young girls of color to tap into their STEM skills?
MILIAN: So many times we've been told that we can't do something. Now here I am. I even I have a beignet business. My best friend and I – two females who, by the way, we've been working on this business for years and went to a lot of male-dominated investors. It was difficult and we had to figure it out on our own because it was just taking way too long waiting. To see that we were able to create something that is now going to be a future for our children based on an idea and to come up out of the, "I can't," or, "You can't do this." Nothing is impossible, you know? We want girls to know that anything is possible. If I can be a mentor to that or if I can be an influence for them seeing that, then that really means a lot.
Especially as women of color, I explained that to my daughter, "Things are going to be a little harder as a woman, period. Woman of color, period." Sometimes we have to rely on ourselves. We don't know where anything is going to come from, but you know what? he knows she can count on me as her mom to really encourage her. That's where I got my encouragement, from the household that happened at home.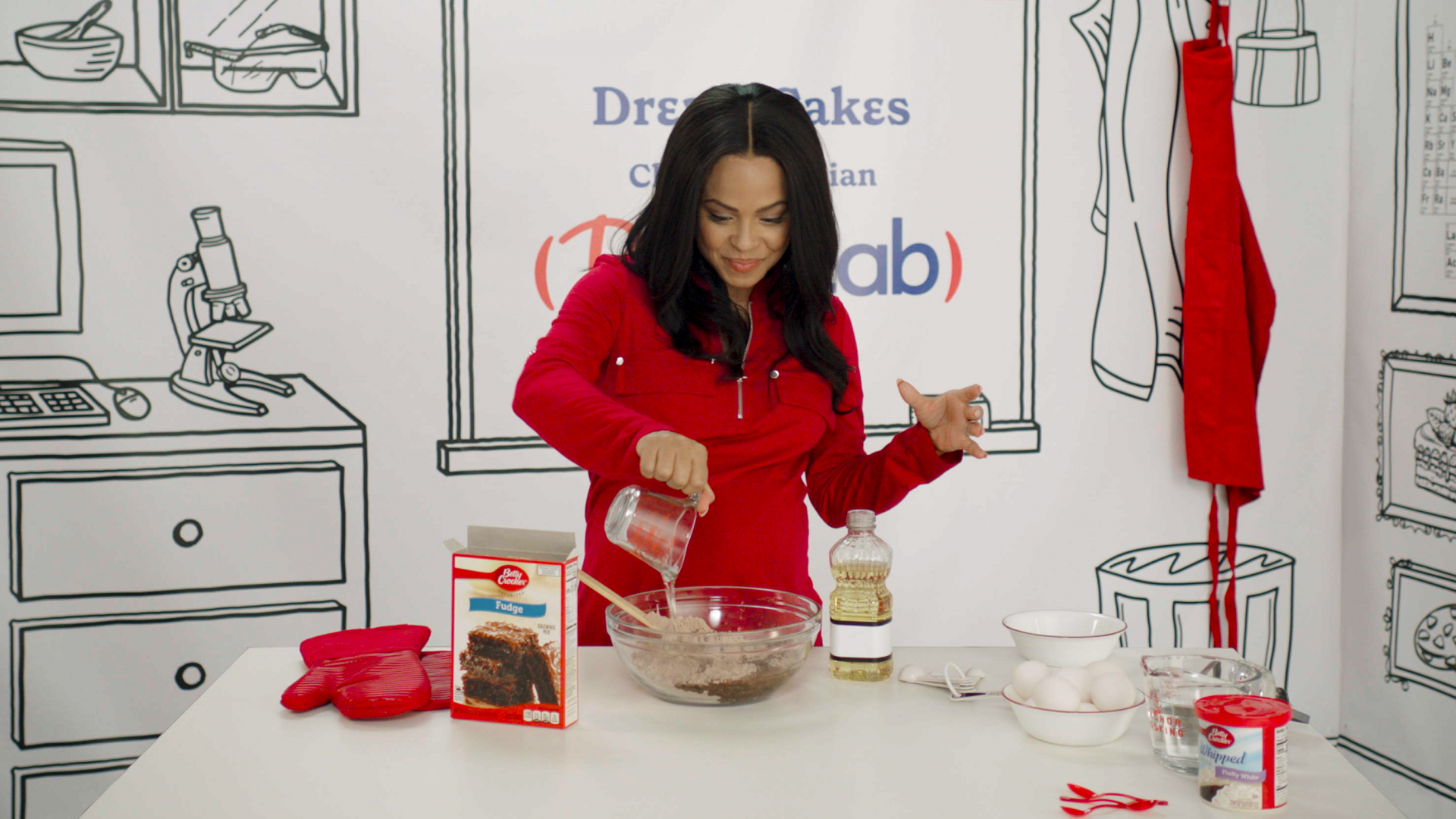 What have you learned about yourself as a parent throughout the time of COVID-19?
MILIAN: Man, talk about a challenge. Especially when you are technically the teacher, because it's kind of hard to keep their attention on Zoom when they're doing [virtual] school. When school's over online, it's about creativity and that's something I've always known about my daughter before the pandemic. She's a very creative soul. I've always had to figure out ways to teach her things in a fun way, whether it be in song or we're writing something down. Song has been a huge thing, because obviously I'm a singer. I remember things from childhood to now, like all the states in alphabetical order because of a song.
In this case, with the BettyLab right now, we've also got Barbie. Not only are you cooking for yourself and making it fun for your child, but also Barbie's there and you're making a little mini Betty cake that there's actually a science that goes to it. Teaching them the activity, but altering it in a way where they don't even realize that they're learning is going to last them a lifetime, honestly. It's figuring out little things that I can teach her where she's learning, whether it be multiplication or science, where she doesn't actually even realize it, and someday she will. She'll be like, "Oh my gosh. My mom was actually teaching me XYZ. I didn't even realize it because she made it fun." I hope she passes that along to her children someday.
What can we expect to see as you step into your new lead role in Step Up: The Series?
MILIAN: Every episode is exciting, it's dramatic, and it's not boring at all. As a woman, I love my character because she owns herself. She owns it. She owns who she is. She's very proud, even when she doesn't get the credit, she's there and she steps up to the plate like every woman that I know. It's drama-filled, it's fun, and the choreography is amazing. They really stepped it up for STARZ. I'm so excited about this new season. I just did all my ten episodes in two months and so it was pretty crazy. It was a crazy ride but I'm so excited. This is the hardest work I've ever done, for sure.
Photo Credit: BettyLab/Betty Crocker