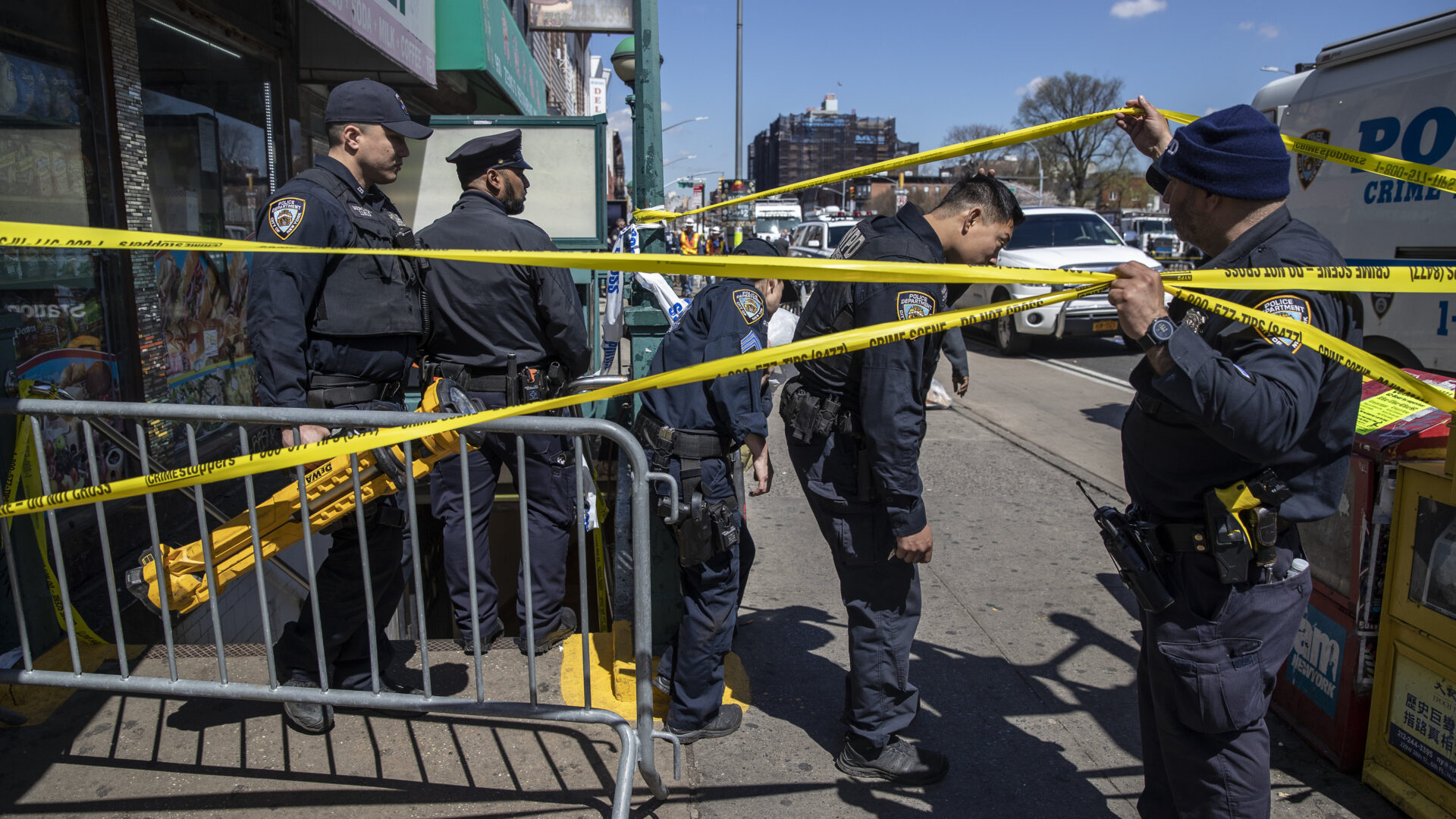 At Least 16 Injured In Brooklyn Subway Station Shooting
The FBI and NYPD are currently looking for the suspect, who is still at large.
At least 16 people were injured in a shooting that occured at 36th Street, a subway station in the neighborhood of Sunset Park in Brooklyn, New York. 10 people are suffering from gunshot wounds and five people are in critical but stable condition. New York's governor said there is an "active shooter situation" in the city as the suspect is still on the loose, according to CNN.
A man dressed in a construction vest and a gas mask opened fire at around 8:24 a.m. aboard a Manhattan-bound N train, NYPD Commissioner Keechant Sewell said during a press conference at the scene. "An individual on that train donned what appeared to be a gas mask. He then took a canister out of his bag and opened it," she said. "The train at that time began to fill with smoke. He then opened fire, striking multiple people on the subway and on the platform."
Several undetonated devices were found at 36th Street station. The NYPD's bomb squad confirmed there are currently no active explosion devices at the scenes. A gun, as well as multiple high capacity magazines, were also recovered at 36th Street station, members of law enforcement told CNN.
"They just started yelling," 16-year-old Gaba Semein told the New York Post about the people around her during the attack. Semein was going to class when the shooting took place. "They told us to switch to the R. Everyone got on, including a guy who got shot. He hobbled on," she said before adding, "I thought he was an MTA worker at first."
The suspect has yet to be found. Turnstiles and cameras on the subway station's platform hadn't been working since Friday, sources told the New York Post. The FBI is working alongside the NYPD on the investigation and are following "every viable lead," said Michael J. Driscoll, the assistant director in charge of the FBI New York field office, according to CNN.
At this time, the motive for the shooting isn't known. "We are determining what the motive is, and we will find that out as the investigation continues," said Sewell.
The injured were taken to hospitals in the area, including NYU Langone of Brooklyn, Kings County Hospital, Methodist Hospital and Maimonides Hospital. Schools located around 36th Street are currently sheltering in place.
"We say no more — no more mass shootings, no more disrupting lives, no more creating heartbreak for people just trying to live their lives as normal New Yorkers. It has to end, and it ends now," said Governor Kathy Hochul in a news briefing and as reported by the New York Post. "We are sick and tired of reading headlines about crime, whether mass shootings or the loss of a teenage girl or a 13-year-old. It has to stop," she added before saying that she is "committing the full resources" of the state to cut down on crime.
In fact, shootings have gone up in New York in recent years. Over 360 people have been shot this year in New York, according to NYPD data shared by CNN. Over the last two years, shootings in New York are up 72.2%, and shooting victims up 70.4%. There have been 131 mass shootings this year alone in the country, according to the Gun Violence Archive, a non-profit that tracks gun death and injury.
The NYPD tip line is open for anyone with information relevant to the attack: 1-800-577-TIPS.