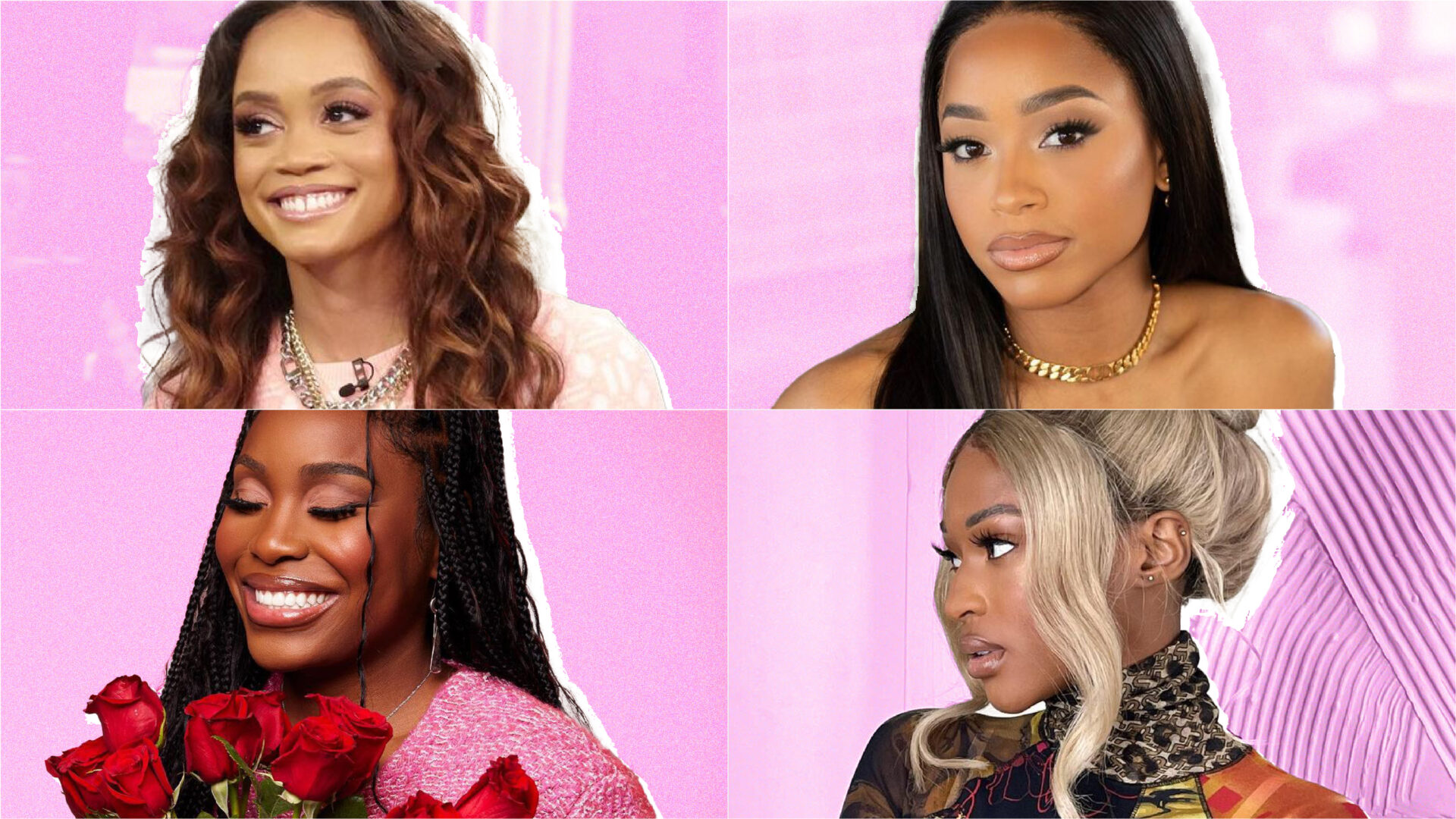 Stop Using Black Women As Dating Show Props
Black women deserve love (and air-time) too.
We've heard it time and time again, "love is a losing game," and for many Black women who decide to look for love on reality television and dating competition shows, this statement rings true.
Over the years, we've seen Black women take love into their own hands by competing on shows like The Bachelor, Love is Blind, Too Hot to Handle, Love Island, and more. There's been a few success stories, such as Lauren and Cameron from Love is Blind, Uche and Clinton from Are You the One?, Nikki and Pauly D from a Double Shot at Love, and recently Dami and India from Love Island UK.
Despite this, there's also been countless insufferable and soul crushing moments watching Black women picked last (or not at all), belittled, dumped, used, and of course, friendzoned. Some call it unfair and at times racist. Others will say it's the name of the game and it comes with the territory of dating on TV. But, what we can all agree on is that these shows do a compelling job highlighting the very real and sometimes exaggerated reality of dating as a Black woman.
Read "Lauren From 'Love Is Blind' Answers The Questions Every Black Woman Is Asking"
For a while, Black women weren't even represented on these dating shows. For instance, Samira Mighty was Love Island UK's first Black female contestant after four seasons. In its thirteenth season, Rachel Lindsay was the first Black woman to lead a Bachelor franchise, The Bachelorette.
Even after this, Black women still acted as background characters on these dating shows or were tokenized.
Lauren Speed-Hamilton from season one of Netflix's Love is Blind made a tweet calling out the popular dating series for using Black women as a prop to reel viewers into watching the show.
"I don't like how LIB be cutting all the Black women. How come they are always in the trailer but not the show," tweeted Speed-Hamilton about the first few episodes of season three.
Although frustrating, this method is nothing new in the reality tv world, let alone in the entertainment industry. Last year, actress Gabrielle Union explained in a TikTok how a similar method was used in the classic cheerleader film, Bring It On, to attract a wider audience and make it seem like the East Compton Clovers were featured more.
"We shot these snippets that you see here after the movie wrapped because once test audiences saw the movie, they wanted more of the Clovers," said the 50-year-old actress. "So, we shot these only for the trailer, not for the movie, to make people think we were in the movie more than we were," she added.
As we know, the idea (or the visual aspect) of being represented always trumps actual representation, especially in Hollywood.
Read "How Gen-Z'ers Can Make The Best Of Dating"
In season 25 of The Bachelor, Matt James made history as the first Black male suitor of the franchise. It was also the first time 25 of the contestants identified as BIPOC, with at least 10 of these contestants being Black women. This seemed like a certified win for Black women and potentially Black love. But alas, by episode five, James had eliminated more than half of the Black female contestants, with many of whom received little to no time with James or even time on our TV screens.
Whether real or scripted, representation means nothing if we're not fully present in these stories. Black women are not an afterthought, a prop, or a tool used to hit a diversity quota. We deserve to be properly heard and seen in these stories about life and in this thing called love.