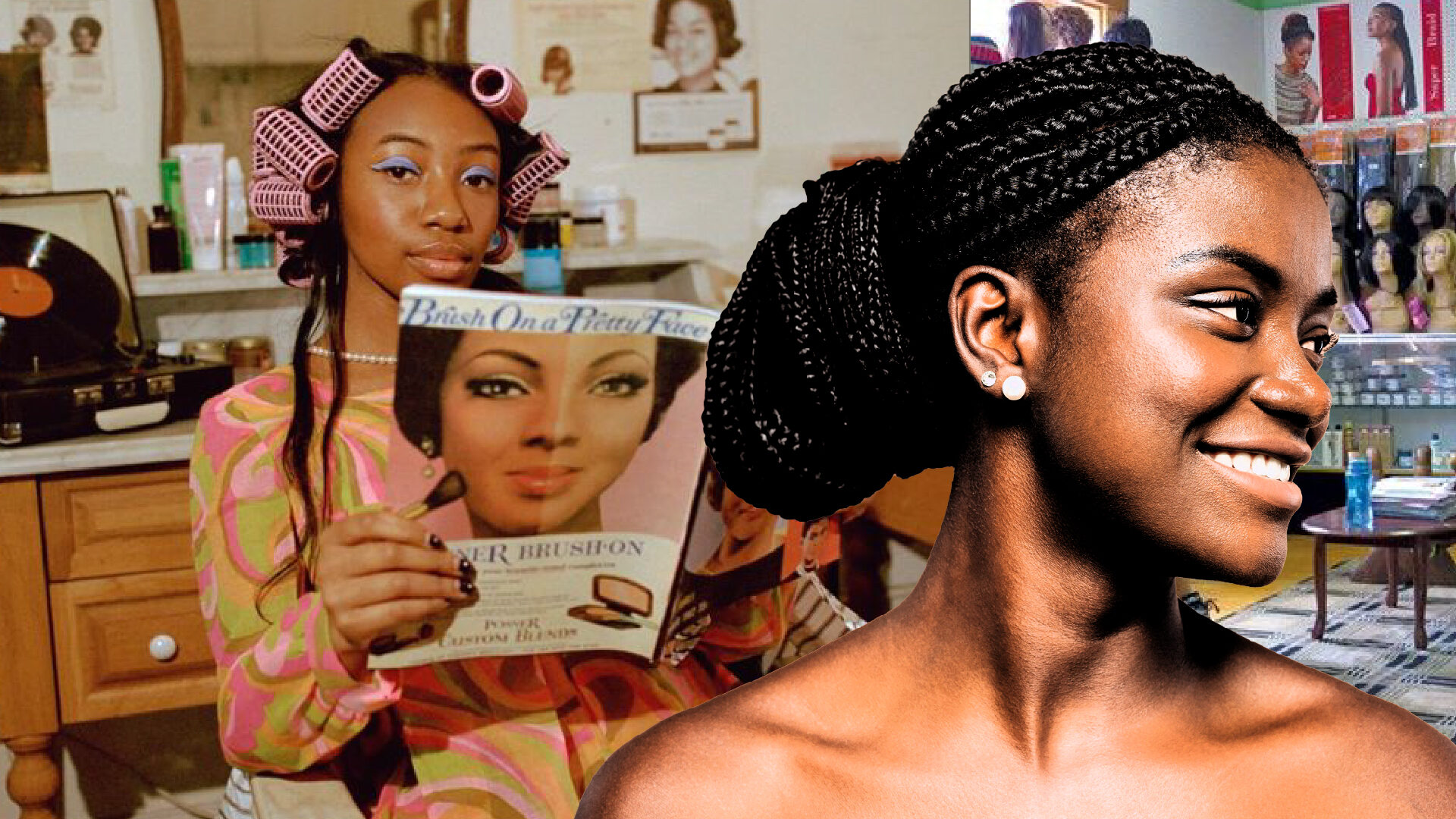 Black Owned Beauty Supply Stores In Each State
A girl's best friend is access to any products or hair for their beauty needs
For decades the beauty supply store has been a safe haven for Black women to find specialty products for us by us. Whether you're gearing up for that long-awaited wash day or prepping for beach-ready braids, the beauty supply store is the place to go.
As consumers, many of us spend our money pouring into beauty supply stores and always staying on trend with the newest products on the market.
According to McKinsey and Company, over the past decade, Americans have spent more than $500 billion on beauty products. Last year alone, the US beauty industry was worth $60 billion, and with a compound annual growth rate (CAGR) of 5 percent, it's expected to reach $73 billion by 2025.
While diversity and equity in the community are becoming a more prevalent conversation, there are still obstacles that Black-owned beauty businesses face.
According to 2022 data, Black consumers show an affinity and preference for Black beauty brands and are 2.2 times as likely to conclude that products from those brands will work for them. However, only four to seven percent of beauty brands carried by specialty beauty stores, drugstores, grocery stores, and department stores are Black brands.
In support of Black-owned beauty supply stores having better visibility, we've compiled a list of black-owned stores across the country.
Alabama: Ensley Beauty Supply: 1802 Avenue E Birmingham, AL 35218
The Ensley Beauty supply store in Birmingham specializes in your go-to beauty essentials from bonnets to salon equipment for upcoming haircare entrepreneurs.
This beauty safe haven has everything you need to secure a successful hair day. After being open for five years, this Phoenix store has become the spot for all your hair needs no matter the season.
Arkansas: SHE Hair & Beauty Supply: 5313 AR-5 Suite 310, Bryant, AR 72022
At SHE Hair & Beauty Supply, southern hospitality is the key to an unforgettable experience and a boost in your haircare products. Over the past nine years, this Arkansas location has created an environment where Black women can get quality hair.
California: Textured Tech: 441 E Carson St Unit C & D, Carson, CA 90745
Textured Tech is owned and founded by Teryn McElroy and was created to bridge the gap between Black women and representation as owners in the hair and beauty industry.
Colorado: Wigs Beauty Supply: 15250 E 33rd Pl Unit A, Aurora, CO 80011
The Wigs Beauty Supply in Colorado is the place to go to support Black beauty brands and products that offer nourishment and sustainability to your hair.
Connecticut: Iva Beauty Supply: 523 Broad St, Meriden, CT 06450
Iva Beauty Supply Store in Connecticut delivers a wide range of high-quality beauty products and accessories, catering to the diverse needs of customers.
Delaware: KD Beauty Supply Inc: 320 E Main St, Middletown, DE 19709
KD Beauty Supply Store in Delaware is a premier destination for beauty enthusiasts, providing a curated selection of top-notch haircare products.
TressaHolic Salon and Beauty Supply is a one-stop destination offering expert services and a wide range of items to cater to customers in the Tampa area.
This spot is a premier beauty destination that provides a wide collection of quality beauty products, serving the needs of the Conyers community.
Discover a beauty oasis at Yaya's and Pop Pop's Beauty Paradise where customers can find a carefully curated selection of products and a warm, welcoming atmosphere.
Experience the best of grooming and beauty at M.A.C. Barbershop & Beauty Supply. From expert barber services to natural hairstyles at a destination that caters to both style-conscious individuals and beauty lovers.
Illinois: Jordan's Beauty Supply: 1911 E 79th St, Chicago, IL 60649
Jordan's Beauty Supply stands as a vibrant hub for beauty enthusiasts in the heart of the city. With various choices of beauty products and a commitment to customer satisfaction.
With a blend of elegance and quality, it's a destination for those seeking a comprehensive range of beauty essentials and trends.
Iowa: JD Beauty Supply: 1067 Highway 6 E, Iowa City, IA 52240
The Iowa Beauty Supply is a sanctuary that contains all of the must-have items when you're starting a new hair journey or need to maintain a classic look.
Who doesn't love endless products and culture? In Kansas, you can find your go-to spot to replenish all your favorite items.
You're able to find a perfect one-stop shop at K'Nai Beauty where you can have the perfect hair transformation and tools to make your style last.
Louisiana: Black Beauty: 1416 Moss St, Lafayette, LA 70501
This Louisiana staple is the place to visit whenever down south. You can find a last-minute bonnet or get new edge control for the sleekest baby hairs whenever you visit Lafayette.
Maine: Toni's Touch: 26B Forest Ave SUITE 2, Portland, ME 04101
Through Toni's Touch, you're able to find all your salon-worthy products and take them home for your personal hair collection.
Three friends made their vision a reality after creating Shades of Beauty, showcasing to other customers that they can achieve any look and feel beautiful.
Massachusetts: Pearl Beauty Supply: 47 Market St, Lynn, MA 01901
With reasonable prices and major access, the Pearl Beauty supply store is the perfect place to re-up your must-have products.
Michigan: Total Glamour Beauty: 22516 Telegraph Rd, Southfield, MI 48033
As a space where personal style and well-being combine, it provides a holistic experience that resonates with customers seeking more than just products.
This vibrant atmosphere promotes customers to experiment with their looks, encouraging a sense of excitement and creativity.
The Hair Queen is an outlet for customers to invest in products with confidence, ultimately delivering more satisfying results.
Missouri: Black Beauty Supply: 5892 Delmar Blvd, St. Louis, MO 63112
The Black beauty supply store is the perfect spot to find your last-minute glam look from lashes to new wigs.
Nevada: Candi's Beauty Supply: 345 W Craig Rd St. 127, North Las Vegas, NV 89032
Yolanda Dyess, founder and owner of Candi's Beauty Supplies is a licensed cosmetologist with over 25 years. Her passion fueled her decision to open her beauty supply store to encourage others to embrace themselves.
New Hampshire: Spacuma Beauty: 160 Amory St, Manchester, NH 03102
Spacuma Beauty ensures that customers with different tastes, preferences, and requirements can find products that align with their unique needs.
New Jersey: Dazzle Dash Beauty: 400 Central Ave, East Orange, NJ 07018
Dazzle Dash Beauty offers multiple products and tools that allow consumers to find their products all year round.
New Mexico: Eli Braid and Beauty Supply: 2109 San Mateo Blvd NE, Albuquerque, NM 87110
Eli Braid and Beauty Supply is the perfect combination for you to get your new set of braids and find the perfect oil to soothe your scalp from day to night.
New York: Yuber Beauty Supply: 1697 Ralph Ave, Brooklyn, NY 11236
Yuber Beauty Supply is a classic Brooklyn haven where women can find the perfect affordable lip gloss or new brush for their hair.
Personal Treasures serves as the hot spot in North Carolina and caters to the girls who need to have their favorite products on hand anytime they run out.
North Dakota: Total Beauty Supply: Dakota Square Mall, 2400 10th St SW #236, Minot, ND 58701
The North Dakota Square Mall has the perfect beauty supply store for you when you're in a rush and need to add any finishing touches to your look for the day.
Ohio: Amani Beauty: 5810 Madison Rd, Cincinnati, OH 45227
Amani Hair & Beauty has been in the industry for over 15 years and is founded on being about family and making sure your experience is nothing short of perfect.
With the customer being the main priority the Oklahoma beauty boutique is the place to be whether you want a new style or a touch-up just in time for the fall.
Pennsylvania: Slay Braids Beauty Supply: 1408 Hanover Ave, Allentown, PA 18109
If you're ready to slay then Slay beauty supply is the location for you, and you can get a signature knotless braid look with the perfect scalp treatment products.
South Carolina: Next Level Beauty Supply: 220 S Van Lingle Mungo Blvd, Pageland, SC 29728
More than just a shopping destination, this store becomes a cover of creativity and self-care, fostering a community of beauty fanatics who can explore, experiment, and elevate their personal style.
South Dakota: Mercy's Beauty Supply: 1914 S Minnesota Ave, Sioux Falls, SD 57105
This South Dakota beauty supply store stands as the ultimate location for all your needs, embodying a sanctuary of endless possibilities for self-expression and transformation.
Whether you're a makeup aficionado seeking the latest trends or someone focused on nurturing your skin and hair, this beauty supply store offers a secure spot to start your beauty journey.
Texas: The Hive Beauty Supply: 8787 N MacArthur Blvd #103, Irving, TX 75063
The Hive beauty supply store is one of the hot spots in Irving Texas and creates a comfortable oasis of shopping and supporting local product owners.
The Utah spot offers everything you need for your braids just in time for the winter as you look for your next protective style.
Vermont: Hair R Us: 200 North St, Burlington, VT 05401
Hair R Us is a melting pot of all things cosmetic and personal care to make customers feel right at home in the beauty space.
Virginia: Envy Us Beauty Supply: 508 S Van Dorn St, Alexandria, VA 22304
The Alexandria, Virginia store is offering wigs, braiding and crochet hair and serves as a place to shop and restock your haircare goodies.
Washington: Mattice Beauty Supply: 3906 S 12th St, Tacoma, WA 98405
This beauty supply store has everything from braiding hair to signature products that can transform your look at any moment.
West Virginia: Eye Candy Beauty Supply: 208 Adams St, Fairmont, WV 26554
The West Virginia Eye Candy Beauty Supply store is the highlight of town that allows shoppers to find staple products for their beauty collection.
The Divine Melanin Beauty Supply store helps customers tap into their inner beauty on a daily basis.
About Kenyatta: Clark Atlanta University and Medill School alumna Kenyatta Victoria is the Girls United writer covering everything from news, pop culture, lifestyle, and investigative stories. When not reporting, she's diving deep into her curated playlists or binging her favorite comfort shows.