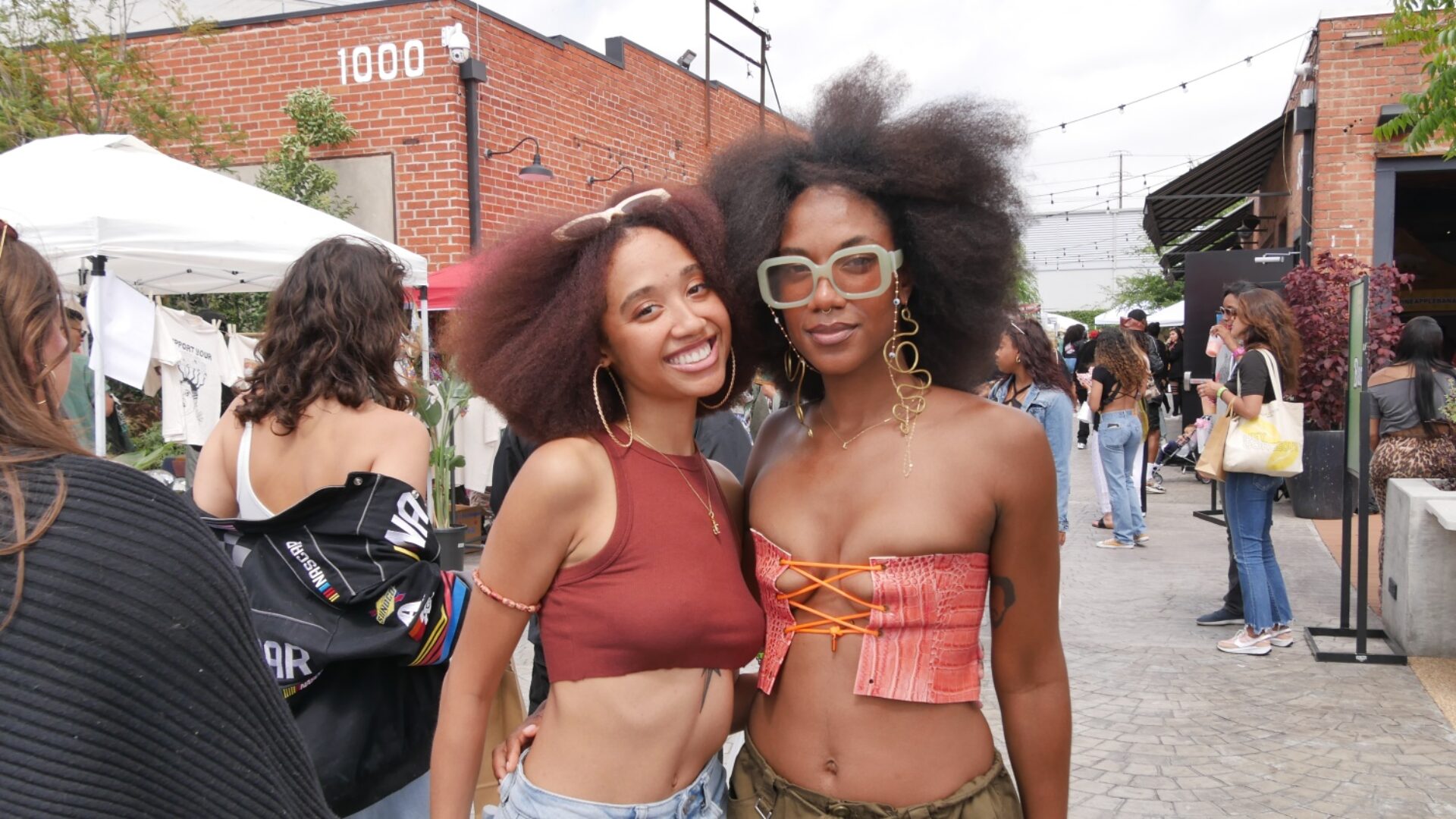 LA's Black Market Flea Sparks Summer Feels With Community & Style
Nothing signals the summer like outdoor gatherings, music, and Black joy.
Kicking off the first full day of Memorial Day Weekend, Black Market Flea hosted its monthly flea market on May 27th. Just a month shy of its second anniversary taking place in June (the next one is sure to be huge, so don't feel too bad if you missed out on last month's), Black Market Flea did what it does best: cultivate community, and look good while doing it.
The flea is an incomparable experience, and that inspiring, familial feeling has kept the community returning for more. Hosted at The Beehive in South Los Angeles, Black Market Flea (BMF) is where Black business, beauty, and collectivism thrive. Over time it has hosted countless vendors of all categories, wide selections of food, and musical guests, including Isaiah Rashad, Saba, Mereba, and most recently, Inglewood's very own SiR.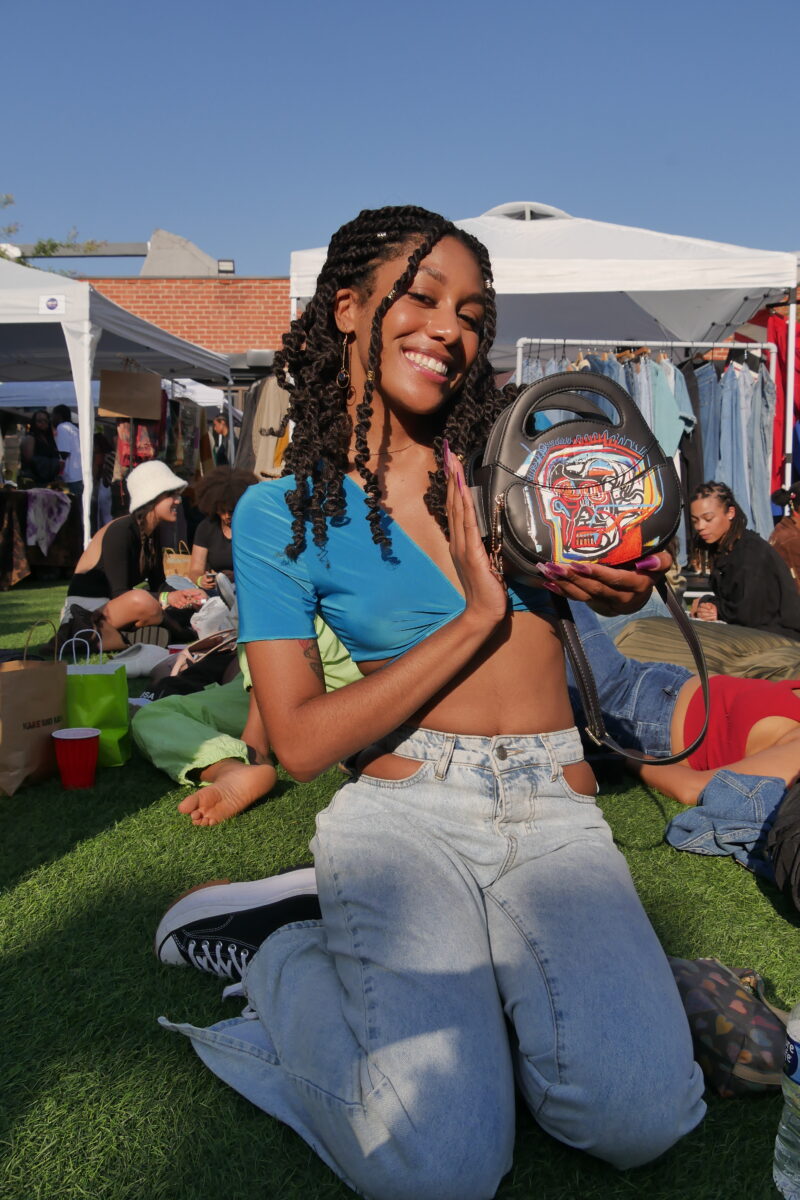 Going to the flea feels like a reunion. I ran into people I hadn't seen in months, reconnected with friends, met new ones, and brought my family along. The anticipation of musical guest SiR brought a sizable crowd, but it felt serene in the sea of people. There was no crowding, no shoving, or fussing, just sharing space respectfully.
When marketgoers were asked what drew them to the event, each one cited the community, art, and fashion. "It's just a really cool space where Black creatives can see everything that we're capable of, our artistic skills, and be amongst each other [in a way that] feels so peaceful," said second-timer Marlena Ryan. 
Melian J, a sustainable clothing designer, has been vending her "purpose-driven slow fashion" pieces since the second flea market almost two years ago, "I think it's beautiful the way we're circulating the Black dollar. My experience here is so fulfilling. When I leave here, my heart is full. The support means a lot to me."
The market's objective focuses on uplifting Black vendors and businesses first and foremost. In between the lively tunes and spirit-lifting refreshments, the organizers make sure to remind market goers of the purpose of materially supporting our people. From rare vintage finds and handmade accessories to one-of-one designer pieces, Black Market Flea is the place to go to expand your sartorial style while supporting the community at the same time.
The flea has been a foundation and potential launching pad for many vendors gaining recognition. Lexie "Foofie" Davis, a creator of Foofie Friday, who was one of the original vendors when BMF first began, returned to the flea after taking a year off. Since her first time at the flea market, her custom beaded apparel and jewelry have been featured in music videos such as Doja Cat's "Woman" and Janelle Monae's "Lipstick Lover." "Things have been moving up," she expressed, "so I'm just excited to come back, connect with the community, and have a nice family day."
Black Market Flea was founded by Mayah Hatcher, who saw the need for an inclusive space for Black vendors after being a vendor at different flea markets herself. Setting out to create an atmosphere where Black small business owners could thrive, she launched an event that has grown into what we all love today: a space where thousands of Black people local to LA and beyond have gathered to shop, dance, and embrace Black creation.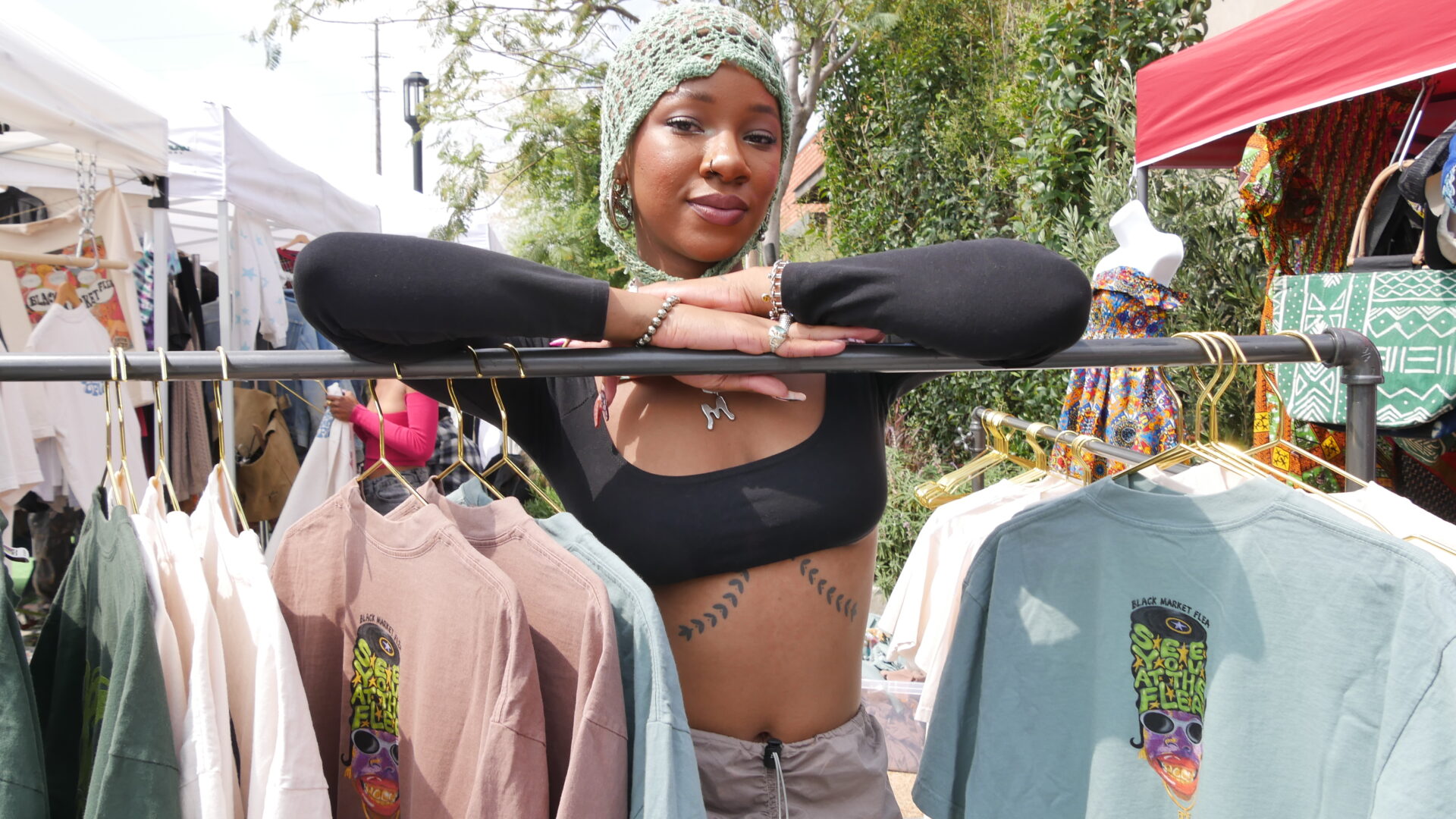 Food from across the diaspora filled the posterior section of the Beehive with Caribbean cuisine, Southern classics, Latin dishes, sweets, fresh natural juices, and plenty of vegan options. Black Market Flea has even featured Black-owned brewing companies in its selection of refreshments– the details and intentionality are unmatched. This selection of food paired with body care products, home decor, and of course the aforementioned fashion, makes BMF your one-stop shop for a day filled with all things Black-owned.
Calling the Black Market Flea a labor of love would be an understatement. Hatcher and co-founder Kene O. (who can be found on center stage setting the mood as one of the flea's resident DJs) work tirelessly to bring their intentions to life. A testament to their mission, the BMF founders have stayed grounded in ensuring the environment is inclusive, freeing, and truly supportive of Black business owners. The electricity coursing through the air is palpable to everyone, so much so that SiR took a moment during his performance to acknowledge the rarity and importance of BMF's existence. Keeping such a large space functional, safe, and committed to platforming exclusively Black-owned entities is no simple task, yet Hatcher and her team do it consistently.
This results in a space where Black peoples of all genders, bodies, and abilities feel free to express themselves and interact with a community that is genuinely there to show out for each other and have a good time. Black Market Flea is a space where we can find our new fave products, lay out together on the grass listening to music, express ourselves freely, and bask in the beauty of Black life.
Don't say we didn't warn you — the flea is the place to be.