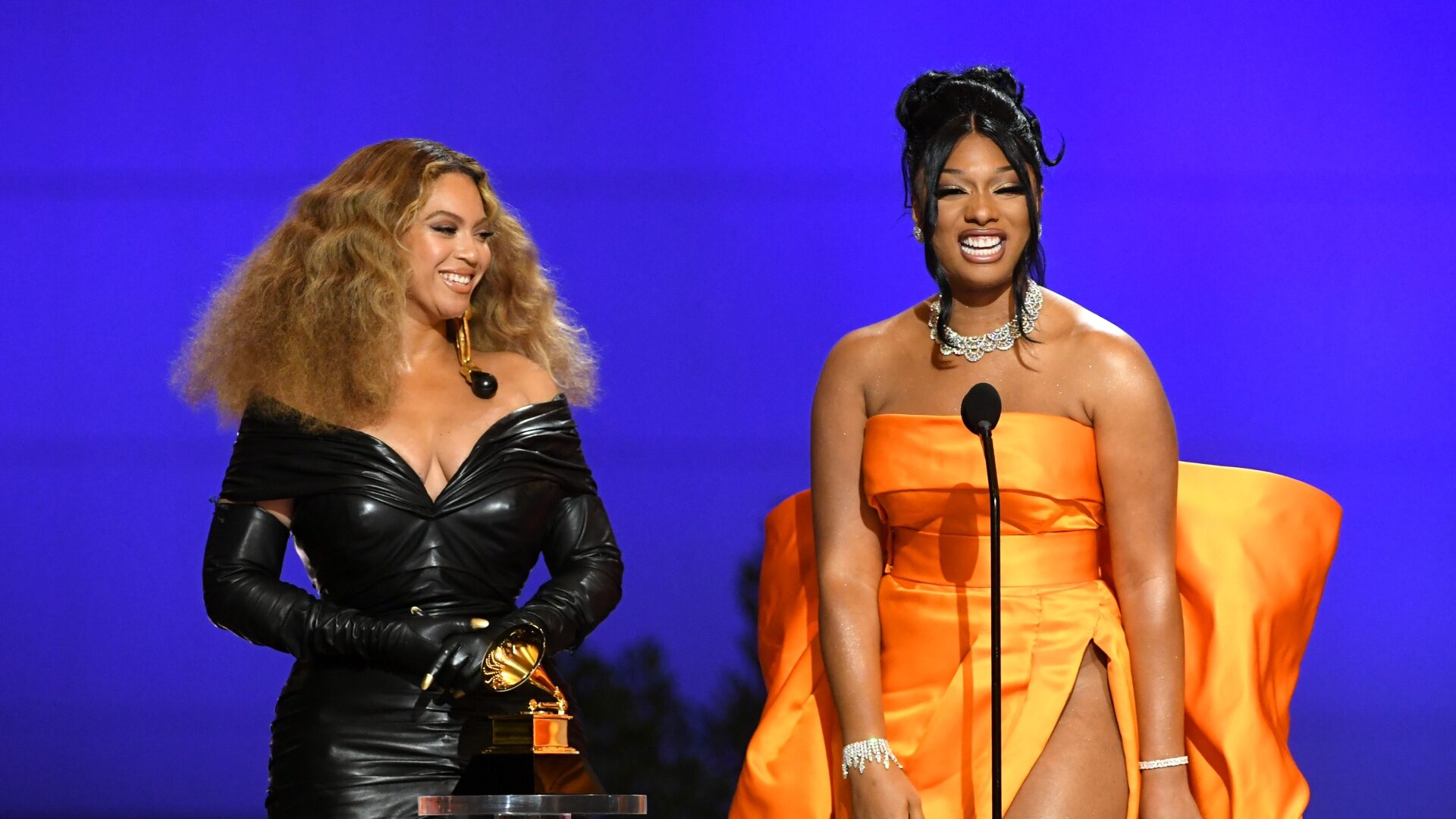 Black Girl Link Ups Matter In Pop Culture
Seeing our faves unite means more than an Instagram moment
Beyoncé continues to be the talk of the internet during the Renaissance World Tour. With endless viral moments, killer looks and even better vocals, it seems unreal that the 42-year-old is on the last leg of the tour. 
Over the weekend, the "Break My Soul" singer performed in her hometown of Houston, Texas, but this wasn't a regular homecoming. As a surprise, Megan Thee Stallion stepped on the stage to perform the Grammy-winning "Savage Remix."
The two Houston hotties absorbed fans' love as we heard Megan say the infamous "Real Hot Girl Sh-t" catchphrase in a stadium alongside Beyoncé. "I love you, Queen," Beyoncé told Megan in an online video. The "Savage" raptress responded, "I love you, Beyoncé."
Read 'Beyoncé Has Hopped On The 'Savage' Remix
Even though we saw the duo's first public interaction during the 2021 Grammy Awards, this performance marked the first time the two hit the stage together. As the timeline erupted with excitement after this long-awaited performance, it sparked a conversation around the importance of Black women coming together in the entertainment industry.
Over the years, we've seen Megan Thee Stallion endure online harassment from trolls and her peers in the music business after being shot by Tory Lanez in 2020. Most recently, Drake made remarks about the raptress during his It's All A Blur tour stop in Houston, Texas.
"I gotta give a shout-out to somebody here who's known me since the beginning of my career. Her name is Megan," Drake said. "She's been with me since day one like real shit. She built this shit with me. Real H-Town legend. Shoutout to Meg one time. Not that Meg. This Meg."
Now that Tory Lanez has received a 10-year sentence, the "Anxiety" rapper can turn her attention towards nurturing the relationships that play a role in her development as both an artist and a person.
As she hit the stage over the weekend in her hometown, showing off her signature twerk and infamous Megan knees, Beyoncé continued to affirm her. "Don't she make you proud, Houston? She makes me proud," she said.
For many millennials and Gen Z'ers, seeing your favorite Black women artists come together to support each other is more than a stan moment. Often, women have to deal with endless misogyny, sexism and unfair treatment behind the scenes.
Recently, Diana Ross surprised Beyoncé at her birthday concert earlier this month, and it symbolized another reason why seeing women in entertainment uplift each other means more than an Instagrammable moment.
"Thank you so much, you are so amazing," Beyoncé told Ross on stage. "This is the legendary Diana Ross! There would be no me without you and thank you so much for all of your sacrifice, your beauty, and your grace. Thank you for opening doors for me. Thank you so much."
Witnessing Black women coming together on a pop culture stage demonstrates to everyday Black girls that they have a support system they can rely on during good and bad times." Beyoncé and Megan make me so damn proud to be a Black woman from Texas," writer Taylor Crumpton tweeted. 
The onstage collaboration was a testament to the power that women have to persevere to continue to be themselves unapologetically, especially in male dominated spaces. Following the tragic turmoil Megan has endured, she deserves to have Black women in her corner both online and IRL. 
Read 'Here's Why You Need To Be At The 2023 GU Disrupter Summit'
About Kenyatta: Clark Atlanta University and Medill School alumna Kenyatta Victoria is the Girls United writer covering everything from news, pop culture, lifestyle, and investigative stories. When not reporting, she's diving deep into her curated playlists or binging her favorite comfort shows.