Angela Simmons is 'Just Angela' on Her New Reality TV Series
Get to know the real Angela tonight on AspireTV!
Angela Simmons has always been an outspoken, outgoing live wire – at least since we first met her on Run's House to her appearances on Growing Up Hip Hop. As the daughter of rap pioneer Rev. Run of Run DMC and niece of serial entrepreneur and Phat Farm's own Russell Simmons, Angela has successfully made a name for herself across fashion, entertainment, and the fitness scene. Now, we get to see the 33-year-old in her own light, in her own way, and calling all the shots.
 Just Angela, debuting on AspireTV tonight at 9 p.m. ET, will take the audience on an in-depth and intimate journey into her day-to-day life as she navigates motherhood, relationships, her career, and being – just Angela! "It's more or less like a behind-the-scenes type of situation," Angela told ESSENCE. "It's like my open diary where I can talk about being a mom, an entrepreneur, things I've been through, and supporting other entrepreneurs. There were just so many different areas in my life which I've not been able to speak on."
"I like people to see me for who I am and I want people to know who I am overall," she continued. Though we see parts of her life on Growing Up Hip Hop, which also stars her sister Vanessa, Romeo Miller, and Shad Moss, Just Angela is stripping back the layers of everything that makes Angela Simmons who she is and gives her a platform to tell her narrative the way that she wants to about love, breakups and even being a single mother.
In her trailer, she tells us that she gives us a raw, uncut, and candid version of herself which can mean a million different things depending on the episode. "It could mean the fun side of me. It can mean stuff that maybe you've never known about me through my journey and what I have been through in relationships," she said. "It's just about sharing the story so that somebody else can share with someone else. Hopefully, it's inspiring because I feel like I've been through a lot of different heartbreaks, but I got to the other side."
When it comes to balancing her life as an entrepreneur and supermom to her adorable son Sutton, Angela admits that she takes everything day by day. "I think sometimes we try to look at the picture all the way instead of taking it a piece at a time. For me, I just go one step at a time and I make sure that I'm doing what works for me," she said. Angela is at her best when her mental health is in tact because she believes that "everything trickles down from your mental," meaning that if your mental health isn't in check then neither can anything else.
"If I don't feel like my mental is right, then I take a step back and I figure out what that is, or what I need to do to fix that. I'm always just checking what's going on with myself, how I feel, how my body feels, and what I can do to improve it," Angela said. When it comes to her self-care and self-love routine, she always incorporates health and wellness whether it be through herbs and natural medicinal research or working out and getting in some lymphatic massages.
She admits that doesn't even like to start her day without working out, which she taps into as a form of self-care and relaxation. "I don't care what I have to do that day. Just let me have my hour at the top of the day for myself. I just need at least an hour minimum just to be able to work out, just to be able to clear my mind, just to have my Angela time where it doesn't involve anything else," said the Built Not Bought founder. As a mother, she is always putting the needs of her child first but during that hour interval, Angela is a priority to Angela which allows her to be a better businesswoman, a better mother, and have the best, positive mindset for that day.
Angela expressed her excitement in putting herself in a position to learn more about her physical and mental healing journey, which improves her mood and helps her evolve. "There are so many things you can learn about yourself on the journey to self healing that maybe you weren't doing. Even after a long day, I find that it's very important to make sure I'm making time for myself," she said. She admitted to getting so wrapped up in what she does for others but she's doing better by asking herself how she's doing and carving out time for the things that make her happy be it traveling or chilling out for the day with nothing on her agenda.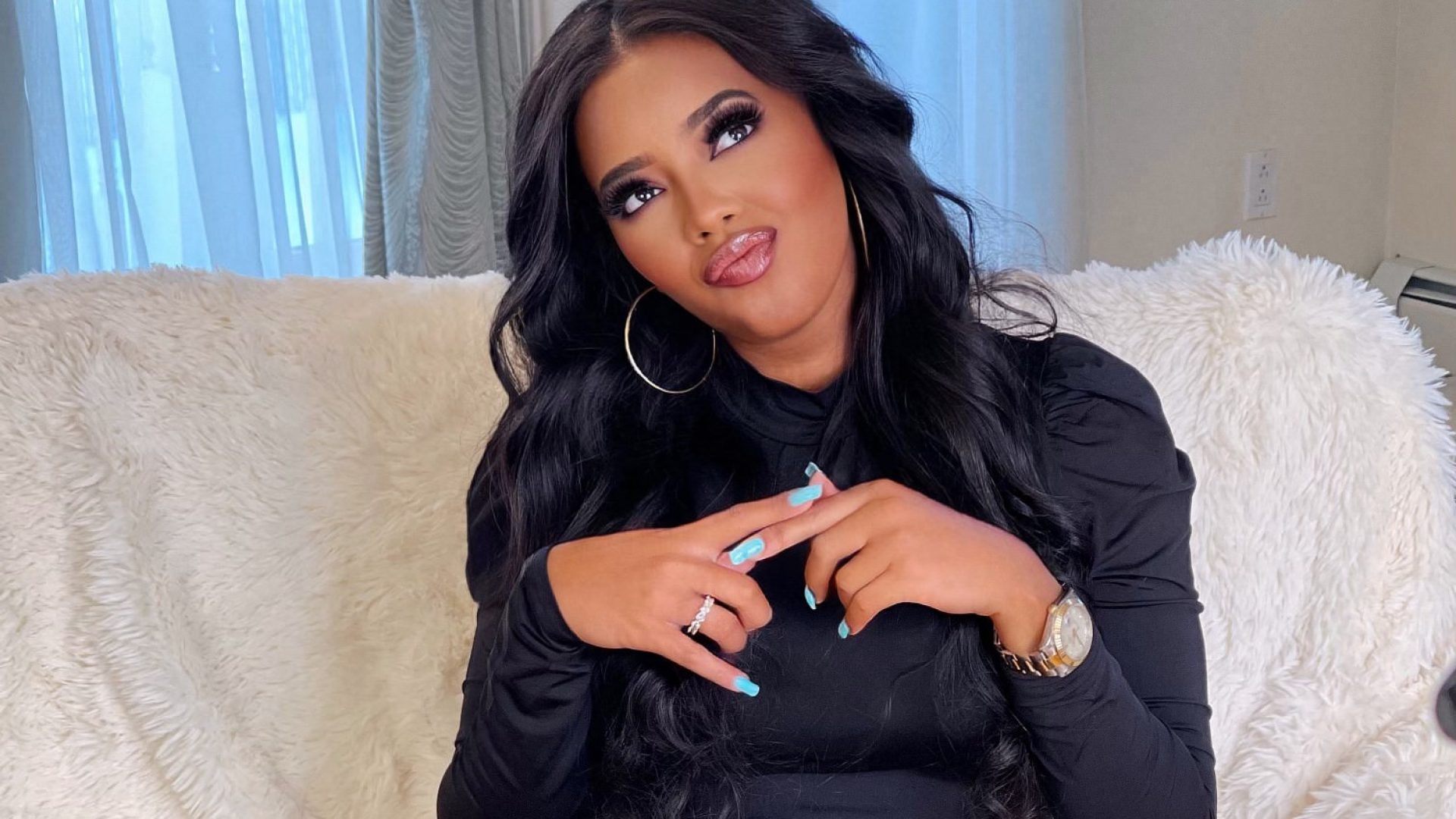 As she reflected on her evolution since her teen years on Run's House, Angela admires her allowance for her personal growth throughout the years and using her strength to get to the next level in life. "It's a little more pressure because there are more eyes on you than you may want at times, but to whom much is given much is required," she said about her experience growing up in the public eye. She's managed to stay humble and grounded through the foundation of and lessons learned from her parents, stepparents, and siblings.
Just Angela reveals a lot about Angela's quirks and inner being, but she let ESSENCE in on a few of them ahead of the premiere. "I can't even swallow a pill so everything I get for wellness, I always try to get things that are either powder form or liquids," she said exclusively. "Doesn't matter how small the pill. If I can't swallow a pill, I can't swallow a pill."
Brand new episodes of Just Angela will be available to view on Facebook, YouTube, and Instagram via the below links following their debut on AspireTV.  The trailer will be available on digital platforms on April 7thand the first episode will roll out on April 14th following the show's broadcast premiere on March 30th.
Photo Credit: Strategic Heights Media/Angela Simmons