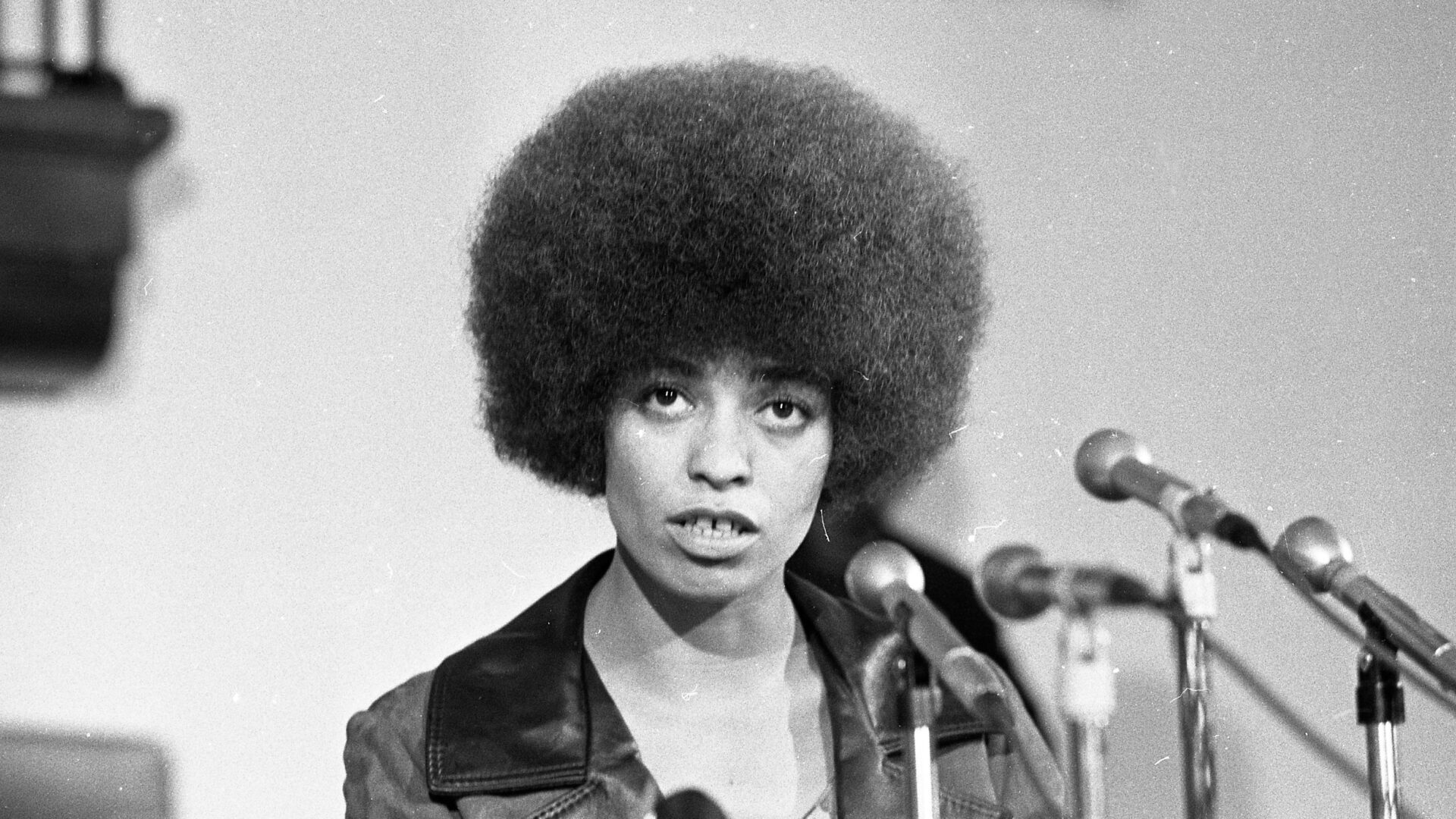 Here's How Angela Davis' Impact Lives On Through Gen Z
Her constant fight for visibility continues through the next generation
Angela Davis is walking history as she exemplifies what it means to stand up for your beliefs against racism, patriarchy and abolition. When you look back at her life story from the moment she was exposed to activism and discrimination, she would play a pivotal role in doing the groundwork that would influence the voices of Generation Z. 
Growing up in Birmingham, Alabama she witnessed firsthand from her mother that staying silent has never been an option. Always attending community-organized meetings, she knew the importance of intergenerational bonding through social justice.
As she got older, she became heavily involved in the civil rights movement where she discovered what it means to challenge inhumane societal agendas against Black people. She realized racism and capitalism were hazards to American justice due to the systematic manipulation happening to Black Americans.
Becoming a notable figure in the Black Panther Party in 1967, she devoted her time and dedication to Black power and liberation, and highlighting the acts of misogynoir and division happening between male and female members. Challenging the stereotypical position Black women were expected to play during the revolution, Davis told The Guardian, "There was a backwardness in the early days of certain elements of feminism that refused to recognize the degree to which gender is historically and socially constructed. This is why I refused to consider myself a feminist for a while – the insistence that all of your loyalty has to be to women, and that tended to mean white women. I can remember being asked, 'Are you Black or are you a woman?'"
Through her work of activism, she grew to understand the prison system after being arrested in 1970 in New York City in association with a shootout that occurred on August 7 in a California courtroom. Davis became the third woman to be placed on the FBI's most wanted list Her experience in prison strengthened her passion for what Black people in the prison system endure. That passion grew into today's conversation surrounding systematic oppression and is now a major topic on social media.
The voices of Gen-Z'ers remain at the forefront of social change due to the historical mark Davis has left behind. There would be no "woke" without her as she continued to question the societal chains placed on Black America. 
"Social media is very important. Unlike you, my formative years were not spent with these new technologies," Davis told TIME. "My experience as an organizer involves knocking on people's doors. I'll never forget when H. Rap Brown was in jail, we raised $100,000 for his bail by going door to door in Los Angeles, largely in South Central, asking people to donate coins! That sounds prehistoric at this point."
Livia Rose Johnson is a co-creator of the Future Makers series on Instagram highlighting Black creatives through art, activism and music. As an HBCU student, she sees the importance of providing a platform for underrepresented voices. Amariyanna Copeny also known as Miss Flint keeps the legacy of Davis alive through her work with the Flint water crisis. Tiana Day continues to create an outlet for young activists after creating the largest Black Lives Matter protests in San Francisco.
"We're both people who view visibility as a big method of activism, in the sense of where when you see it you can of start believing it," Johnson told GU.
While the generations before have ridiculed Gen Z'ers for their advocacy on significant societal issues, it's evident that children of the late 90s to early 2000s refuse to give up their vocal strength to push back. With historical figures like Angela Davis to be inspired by, it's safe to say the kids are alright.
About Kenyatta: Clark Atlanta University and Medill School alumna Kenyatta Victoria is the Girls United writer covering everything from news, pop culture, lifestyle, and investigative stories. When not reporting, she's diving deep into her curated playlists or binging her favorite comfort shows.