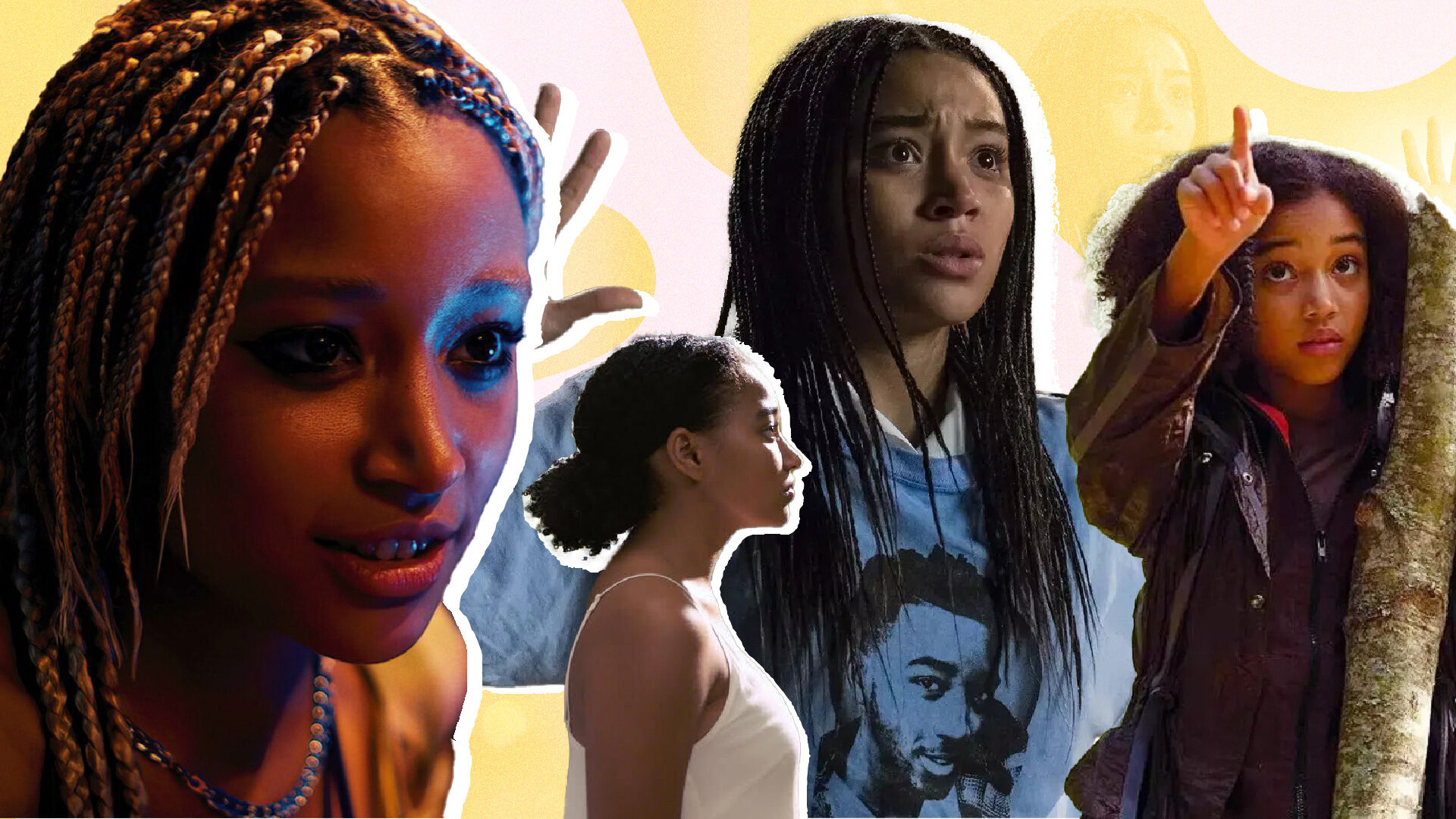 All The Films Amandla Stenberg Won Our Hearts In
In honor of the star's birthday, we're strolling down memory lane.
Amandla Stenberg evokes the recognition of Gen Z youth who value ethics and intention. She's a reflection in film of the Hollywood vanguard that captivates movements with their characters and is apt to voice their concerns. Off-camera, she's a beacon of progress and hopes through her internet phenomena.
In 2015, the actress' video titled "Don't Cash Crop My Cornrows" (a digital thesis for a class project) went viral at a time where Black youth were publicly digesting their identity as white celebrities tried to remain proximal to Black culture for social capital. "What would America be like if we loved black people as much as we love black culture?," she rhetorically positions at the end of her argument. From that moment (just a few years after the world fell in love with her as Rue in The Hunger Games), she has remained a steady fixture in Gen Z global perception.
Whether hosting SuperSoul Sessions with Oprah Winfrey or being Beyonce's idealization of an older Blue Ivy (according to Vogue) or facing off against cancel culture, Stenberg is educating us all on the power of activism and integrity through acting and advocacy. Ahead are all the films that made us grow fonder of her.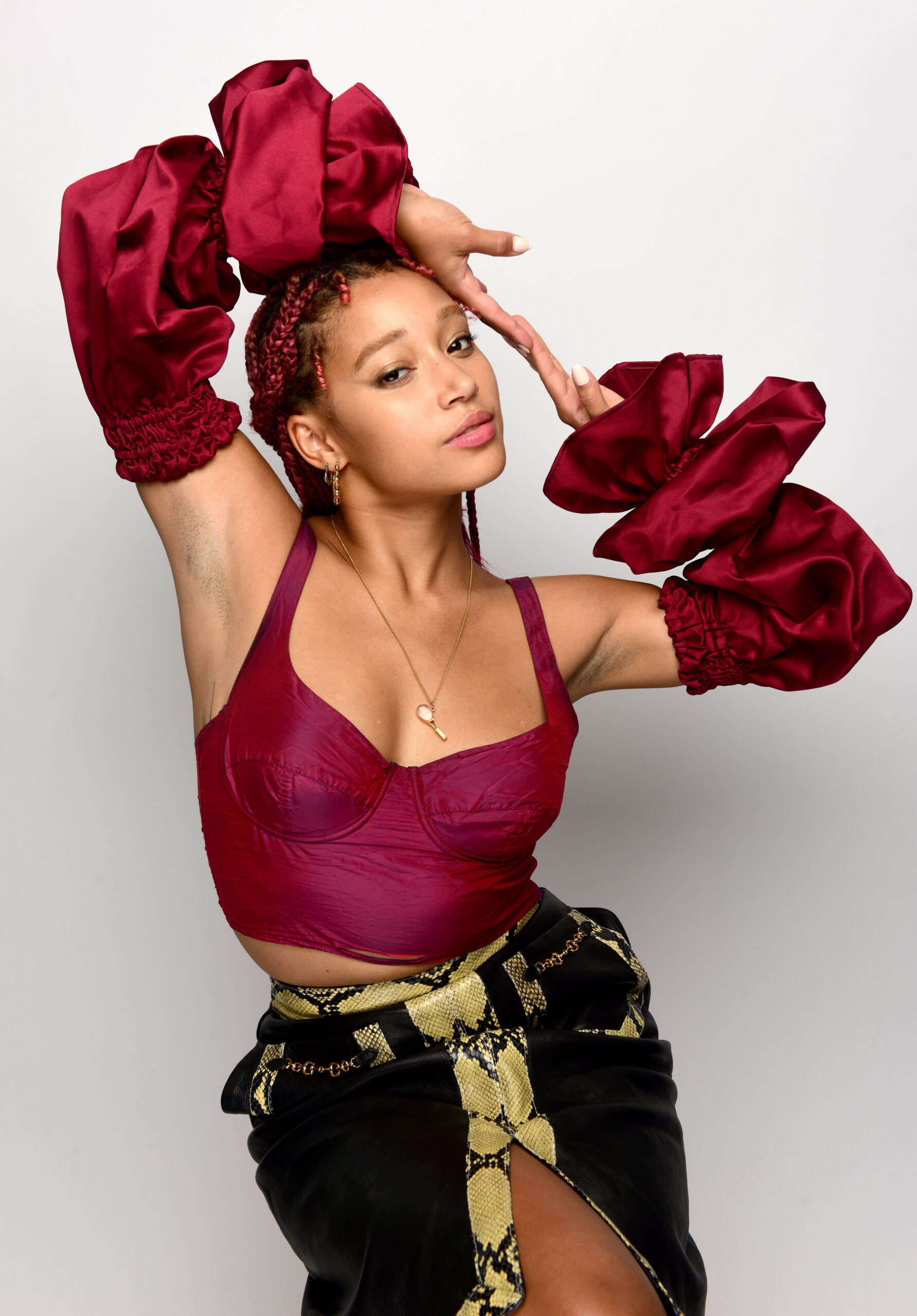 Photo Credit: SAN DIEGO, CALIFORNIA – JULY 22: Amandla Stenberg visits the #IMDboat At San Diego Comic-Con 2022: Day Two on The IMDb Yacht on July 22, 2022 in San Diego, California. (Photo by Vivien Killilea/Getty Images for IMDb)
The Hunger Games (2012)
In the first installment of The Hunger Games trilogy, Stenberg plays Rue, a 12-year-old tribute that forms a beloved alliance with the film's heroine Katniss. While Stenberg's character heartbreakingly dies from a spear to the abdomen, her introduction to the world through the acclaimed film is indelible.
"It does feel really special to have begun my career with [The Hunger Games] and to be in a place now where I can be cast in the lead in this sort of thing," Stenberg reflected with Buzzfeed News. "I don't know that that would have been possible at the time in the same way."
"Everything, Everything" (2017)
Bound in a ultra-sealed sterilized home to protect her from her chronic vulnerability to germs, Maddy (Stenberg) faces the extent of sacrifice in the vein of love. Although the teenage romance didn't explicitly focus on race, critics of the film rejoiced the inclusion of an interracial relationships.
"We're living in a world that is increasingly more diverse and increasingly more nuanced, and it makes sense for our films — specifically the films that have target audiences that are teenaged to reflect that in a way that's authentic," Stenberg told NPR. "This movie is not about race, there's never a conversation in the film. What it does is it just shows us existing."
"The Hate U Give" (2018)
In "The Hate U Give," the film adaptation of Angie Brown's titular book, Stenberg plays high schooler Starr Carter (who like many Black youth) witnesses the dismal aftermath of police brutality in their community and in predominantly white spaces.
"We rob black children of the opportunity to be children," Stenberg told Teen Vogue. "They have to be so careful about the way they act and present themselves from such an early age because they understand that they are not afforded a childhood in the way their white counterparts are."
"The Darkest Minds" (2018)
In her sci-fi foray, she pulses a rebellion on behalf of American youth with her psychic powers. Stenberg says her love for YA storytelling is the raw sincerity that unravels throughout it. "I also just love the way that young adult is uncontrived and earnest and deals with themes that we all deal with throughout our entire lives," she told USA Today. "I don't think young adult is just for young adults. It gets to the crux of what being a person is about."
"Where Hands Touch" (2018)
This romance war film depicts a biracial woman navigating persecution during the Holocaust, which contrasted how cinema has told the story of the Black diaspora. "We lack a range of the experience of black people throughout history, let alone a story about someone who is biracial," Stenberg told Variety.
"Dear Evan Hansen" (2021)
Alana (Stenberg) tackles the grief that comes with loneliness and the art of coping with voids through hyper-ambition. "Alana is a character I related to in so many regards. Just in terms of the specific neuro-divergences that she's contending with, you know, dealing with anxiety and depression, being someone who has responded to that anxiety and depression by overcompensating. That really was me in high school," Stenberg told MTV News. "I did every single extracurricular activity. I was so hard on myself and I was such a perfectionist. If I received any criticism or got an A-minus on a test or paper, like, it would destroy me."
"Bodies Bodies Bodies" (2022)
This A24 nihilistic, satire-horror follows the Stenberg as Sophie and privileged young adults as they blurt their warped definitions of Twitter buzzwords even in the midst of catastrophe. In conversation with Euphoria's Hunter Schafer for The Cut, Stenberg said the controversy she felt when reading the script drew her to the role. "I thought the writing of the script was so layered, synced, and gloriously trashy. I felt like I was part of this friend group. I hated them and I loved them — and I understood the intellectual-competition game that they played with each other," she said. "I reviled them and abhorred them and still wanted to keep spending more time with them, which was fascinating."
Photo Credit: Original GU Artwork
About Mia: Mia Uzzell is a culture documentarian covering Black womanhood with bylines in Glamour, Teen Vogue, Grazia USA, and more. You can keep up with her discourse surrounding the intersection of race and gender on Instagram @originalmiadiamond